My animation company, PokeGravy Studios, has helped people bring unique animated projects to life for over a decade.

PokeGravy Studios is not a large, faceless operation. When you choose to work with PokeGravy Studios, you work one-on-one with me as an artist, and I bring my specific vision and years of experience to every project.

On this end, I turn to my community of talented artists, sound designers and voice actors to assemble a team specifically tailored to the project at hand, and I direct that amazing team.

You get the power of hiring a larger studio combined with the personalized experience of working with an indie director. That's how I've been able to proudly create for everyone, from large corporations and Grammy-winning musicians to mom-and-pop shops and indie bands.

If you like my work and need start-to-finish animation production (whether you know anything about the process or not) get in touch and tell me about your project!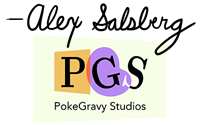 "The music video Alex made for us was PERFECT. It captured our band's style and tone, and added a layer of Salsberg-esque comedy that we never would have gotten if we'd chosen another company. The extra layer of comedy that he adds into his cartoons are second-to-none, this guy is hilarious!"

JOSH SHRIBER & PATRICK HANLIN, BAND MEMBERS, JOSH AND THE JAMTONES




"In my profession, I work with a lot of artists, and it's rare to find someone as talented as Alex. He excels at collaboration, knowing how to bring his own unique style while also being respectful of your original vision. He works fast, communicates well, and I wouldn't hesitate to work with him again."

JIM WOOLRIDGE, EDUCATOR/VIDEO PRODUCER, SENIORWOOLY.COM




"Our cartoon is posted on our website and is one of the most popular parts that actually attracts visitors. It has been a fantastic relationship and I have already engaged with Alex on the next project. I highly recommend his services and know you will be impressed by his creativity and talent."

STUART McCAFFERTY, PRESIDENT, CHARGE DEFENSE